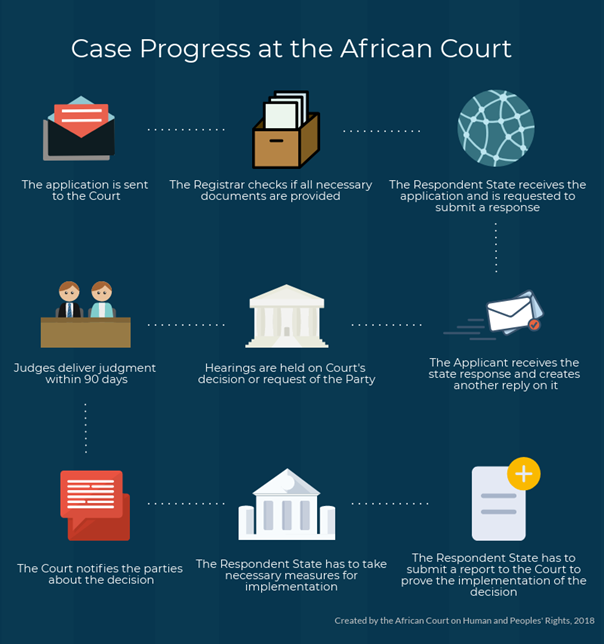 A case commences when an application is filed at the Court. All information on how to write an application can be found on our "How to file a case". The application is received at the Registry and the registrar verifies all the documents.
Once the Registrar  has verified all necessary documents that have been sent, the said documents are transmitted to the  Respondent State.
In case there are still documents or evidence missing, the Registrar  requests the Applicant to provide the missing information.
The Respondent State  is then granted sixty (60) days to file a response. If the Respondent State files a response then it is transmitted to the Applicant for them to file a reply within thirty (30) days.
The Court may decide to hold Public hearings on its own volition or at the request of a party. The Court delivers its judgementafter deliberations on the case. After the delivery of judgment, a certified true copy of the judgment is transmitted to the Parties, the African Union Member States and the Banjul Commission. Once the Parties, the AU Commission and the AU Member States are notified of the decision, the Respondent State must submit periodic reports to the Court on the implementation of the judgment when required within the timelines specified in their operative parts.
The Applicants are also encouraged to file observations on compliance. The Parties can  request for an interpretation of  specific item in the operative part of the judgment by the Court for the purpose of executing a judgment.
However, it is up to the Court to decide whether to allow the request or not. The Parties can also file for review of a case where they discover new evidence. Nevertheless, the Court will only consider an application for review of a judgement in the event of the discovery of evidence, which was not within the knowledge of the Party at the time the judgment was delivered and the filing of such an application must be within six (6) months of the discovery of the new evidence